Minister of Social Policy of Ukraine Maryna Lazebna said that internally displaced persons who were forced to leave their place of residence due to the large-scale invasion of Ukraine by the Russian Federation will receive housing assistance from the state in the amount of 3,000 hryvnias for each child or person with disabilities. and in the amount of 2000 hryvnias for each other person.
The relevant decision was developed by the Ministry of Social Policy and approved by the Government.
Who will receive help?
Assistance will be provided to people who have moved from the temporarily occupied territory of the Autonomous Republic of Crimea and Sevastopol, as well as from areas of active hostilities, which are defined in the list approved by the Cabinet of Ministers of March 6, 2022 № 204, and received a certificate of registration of internally displaced persons.
Internally displaced persons who, as of March 1, 2022, received monthly targeted assistance to cover living expenses, including housing and communal services in accordance with the resolution of the Cabinet of Ministers of Ukraine of October 1, 2014, will also receive automatic assistance without additional treatment. № 505.
"I had questions, but what about those people who are" re-immigrants "and are forced to leave their homes a second time?" These are people who moved for the first time due to the fighting and Russian occupation of Ukraine in previous years, starting in 2014. Some of them built a new life in Kharkiv, Bucha, Sumy, Irpen and other cities, which are now under enemy fire. And now these people are moving back to safety.
I answer: of course, they will also receive housing assistance, we have provided for this in the decision of the Government ", – commented Marina Lazebna.
How help will be provided
Assistance will be provided in the following amounts:
• for persons with disabilities and children – UAH 3,000 per month,
• for other persons – 2000 hryvnias per month.
Payment of assistance is made through Oschadbank to a bank account (according to the IBAN standard), which the recipient indicated in the application for assistance.
Assistance is provided monthly from the month of application for the entire period of martial law plus one month after its termination or abolition.
The benefit is paid for a full month, regardless of the date of application for it and the date of termination or termination of martial law.
Payment of assistance to internally displaced persons is not made for the months in which they received monthly targeted assistance to internally displaced persons to cover living expenses, including housing and communal services, in accordance with the resolution of the Cabinet of Ministers of Ukraine of October 1, 2014 № 505 .
How to get?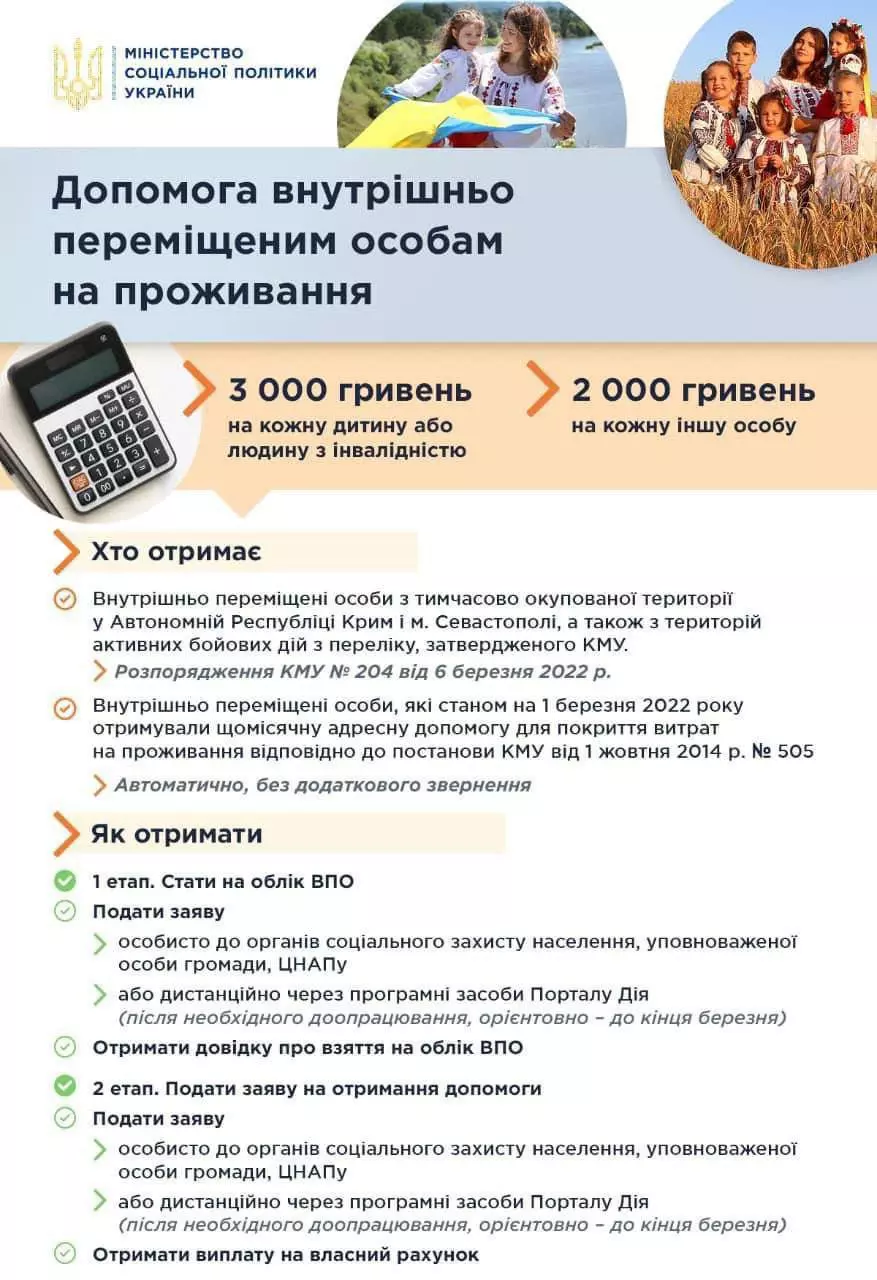 The first thing to do if information about a person is not yet in the Unified Information Database on Internally Displaced Persons is to register as an internally displaced person and obtain the relevant certificate.
The next step is to apply for a residence permit.
From next week, the application can be submitted to the structural unit for social protection of district, district state administrations in Kyiv, executive bodies of city, district councils in cities, authorized person of the executive body of the village, town, city council or administrative service center.
"By the end of the week, the necessary changes will be made to the software, and during this time we will differentiate the amount of payment depending on the category of the person applying. So, from the beginning of next week, you can apply for help, "said Marina Lazebna.
It will also be possible to submit an application through the software of the Action Portal after the necessary revisions. It is estimated that the completion will be completed by the end of the month.
"We now expect that about 2 million people who have been forced to flee their homes due to active hostilities will apply for housing assistance. These are mothers with children, elderly people, people with disabilities who have one suitcase with them. They need comprehensive help.
Therefore, we suggested, and the Government agreed with our proposal, in its decision that the amount of housing benefits received should not be taken into account when calculating the total family income when providing all other types of income-based social benefits.
Therefore, I ask all those who have moved from dangerous settlements and need help to register as internally displaced persons and seek help.
I also ask those who do not need help, who have not lost their jobs and can provide for themselves in a new place, to act according to what your conscience tells you, "commented Marina Lazebna.